Facebook adverteren, de beste tips!
Facebook heeft meer dan 6,8 miljoen gebruikers die dagelijks actief zijn. Inmiddels zijn alle doelgroepen terug te vinden op Facebook. Facebook is een platform waar men dagelijkse bezigheden deelt met onder andere vrienden en kennissen. Ook worden berichten van bedrijven aanbevolen door Facebookgebruikers door middel van een like of dit bericht te delen. Hierdoor wordt vertrouwen gewekt bij andere Facebookgebruikers over dit bedrijf. Genoeg redenen om te beginnen met adverteren! Hieronder staan de meest belangrijkste tips als je gaat beginnen met Facebook adverteren.
Tips Facebook adverteren
1. Segmenteer uw doelgroep
De meest gemaakte fout bij Facebook adverteren is dat je je doelgroep niet goed genoeg segmenteert. Het voordeel van Facebook is juist dat er targetting opties zijn als je gaat adverteren.
Wij adviseren altijd om eerst klein te beginnen. Richt je op een kleine groep Facebookgebruikers. Dit kunnen bijvoorbeeld 10.000 gebruikers zijn. Zo verplicht je jezelf om te segmenteren. Wees creatief. Er zijn genoeg mogelijkheden om te segmenteren. Dit kan bijvoorbeeld zijn op een bepaalde leeftijd, plaats of interesses. Op deze manier weet je dat de juiste doelgroep uw advertentie te zien krijgt voor een gering budget.
2. Begin met een klein budget
Hoe beter je segmenteert, hoe goedkoper het is. Dit komt doordat er minder mensen klikken die geen interesse hebben. Hierdoor zorg je voor minder foutklikken. Begin bijvoorbeeld met een dagbudget van 5 euro. Wanneer je zeker weet dat de campagne effectief en winstgevend is, maak je het budget hoger.
Het is wel belangrijk dat wanneer je het budget verhoogt dat je het blijft analyseren. Het kan zijn dat  de winst juist minder wordt door het verhogen van het budget.
Wij adviseren altijd aan beginnende adverteerders om te kiezen voor "betalen per klik" en niet voor "impressies". Als je kiest voor impressie zorgt Facebook ervoor dat jouw advertentie zo veel mogelijk zichtbaar wordt voor jouw doelgroep, maar ze doen er geen moeite voor dat deze doelgroep ook daadwerkelijk klikt op de advertentie. De kans is ook aanwezig dat met impressie de doelgroep tweemaal de advertentie te zien krijgt.
3. Professionele advertenties
Tijdens het maken van een advertentie op Facebook zijn er ontwerp aanbevelingen. Houdt je hier aan! Wanneer je je hieraan houdt zien je advertenties in Facebook er professioneel uit. Dit houdt in dat je een afbeelding kiest die voldoet aan de juiste resolutie en de verhoudingen.
Een advertentie die creatief, opvallend en origineel is doet het beter dan saaie advertenties.
4. Maak gebruik van simpele advertenties
Op Facebook heb je allerlei verschillende manieren om te adverteren. Wij maken gebruik van hele simpele traditionele advertenties. Dit is een afbeelding of video.
Waarom doen we dit? De andere alternatieve methodes lijken meer op advertenties waardoor de kans op klikken lager wordt.
Het is beter om gebruik te maken van eigen afbeeldingen. Afbeeldingen die staan op bijvoorbeeld Shutterstock zijn erg mooi, alleen de kans is groot dat mensen die afbeeldingen al eerder hebben gezien.
5. Steek tijd in de tekst die je schrijft bij de advertentie.
Een goede tekst schrijven voor Facebook is niet gemakkelijk. Er zijn een aantal punten waaraan je moet denken.
Kop: De kop valt in de meeste gevallen goed op. Zorg er voor dat de kop aansluit bij de interesses van de doelgroep. Geef bijvoorbeeld iets weg aan de doelgroep. Dit kan bijvoorbeeld een E-book zijn, een sample of een prijs.
Geschreven tekst: Als je de tekst schrijft bij de advertentie is het belangrijk dat je de lezer aanspoort om iets te doen. Dit kan bijvoorbeeld een call to action zijn of om je Facebookpagina te liken.
Call to action: Maak een duidelijke call to action en beschrijf erbij wat de voordelen zijn om te klikken op de advertentie.
Meer informatieknop: Maak een meer informatie knop aan. Uit onderzoek is gebleken dat dit de beste manier is om mensen door te laten klikken.
Vraag zelf om meer likes en shares.  Vraag in uw advertentie of de Facebookbezoeker uw advertentie wil liken of delen. Hierdoor krijgt je bericht meer views en ontstaat er meer interactie.
Facebook adverteren uitbesteden?
In bovenstaande voorbeelden zijn tips beschreven die je kunt gebruiken als je gaat adverteren. Alsnog komt er het een en ander  bij kijken. Ben je benieuwd hoe je Facebook adverteren voor uw bedrijf ingezet kan worden? Neem dan contact met ons op. Wij helpen je graag met jouw online vindbaarheid.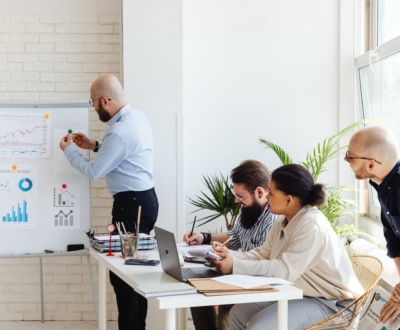 Mensen werken in de huidige tijd een heel groot deel van hun…