Website laten maken, zelf doen of deels uitbesteden?
Dit is een vraag die veel ondernemers hebben. Moet ik een website laten maken, zelf doen of deels uitbesteden? Dit is afhankelijk van hoeveel tijd je hebt, wat het budget is en wat de doelstelling van je website is. Het zelf maken van een website is niet makkelijk, zeker niet als het gaat om een website die zakelijk en professioneel moet zijn. Een webdesigner werkt dagelijks aan een website, waardoor deze veel sneller is in het maken ervan en meestal beter.
Het is ook mogelijk om bepaalde taken uit te besteden, zoals de template van de website of bijvoorbeeld de zoekmachine optimalisatie (SEO).
Als je zelf een website gaat maken kun je het beste gebruik maken van een Content Management Systeem (CMS). Dit is bijvoorbeeld WordPress. Hiervoor zijn duizenden templates te koop voor ongeveer 60 euro. Deze zijn bijvoorbeeld te vinden bij "Themaforest"
Website laten maken of zelf doen?
Voor beiden zijn er voor- en nadelen. Als je een website laat maken door een professioneel is deze website waarschijnlijk sneller, mooier en beter. Er komt namelijk veel kijken bij een goedlopende website.
Het nadeel van een website laten maken is dat je zelf geen verstand hebt van je eigen website, omdat deze door een ander gemaakt is. Iedere keer als je een wijzing wilt doorvoeren moet je weer naar de webdesigner gaan. Dit brengt uiteraard weer kosten met zich mee.
Het voordeel van zelf een website maken is, dat de kosten laag zijn. Je koopt een template van 60 euro (eenmalig), een hostingpakket van 60 euro (per jaar) en je hebt een website. Het nadeel van een bepaalde template is dat je in sommige gevallen niet alles kan aanpassen en de techniek kan minder zijn.
Het maken van een website kost veel tijd. Je moet onder andere een template kiezen, installeren, ervaring krijgen met de CMS en de template aanpassen. Hier ben je als beginnende al even zoet mee.
Als je het professioneel wilt aanpakken en vindbaar wilt zijn in Google, moet je ook doen aan zoekmachine optimalisatie. Dit is ook een tijdrovende klus als je het zelf wilt doen. Ook moeten de teksten op de juiste manier geschreven worden en overtuigend zijn zodat de bezoeker jouw dienst of product afneemt.
Als je teksten wil laten schrijven betaal je al snel tussen de 150-200 euro per pagina van 500 woorden. Een gemiddelde tekstschrijver vraagt rond de 75 euro per uur en is meestal rond de 2 uur bezig met een tekst.
Een ander onderwerp dat onder zoekmachine optimalisatie valt is linkbuilding. Dit is het verzamelen van links. Hierdoor krijgt je website meer autoriteit waardoor je hoger komt in Google.
Er zijn nog meer dingen waar je aan moet denken als je een website gaat beginnen. Het kiezen tussen zelf maken of laten maken is vooral afhankelijk van de doelstelling. Wil je een website er bij als informatiebron of wil je ook online klanten generen?
Wat kost een website laten maken gemiddeld?
De kosten van een website lopen sterk uiteen. Dit is afhankelijk bij wat voor bedrijf je het laat maken. Hieronder staan een aantal voorbeelden wat de kosten voor het maken van een website kunnen zijn.
Voorbeelden
Als je budget beperkt is, kun je met een beginnende webdesigner afspreken dat hij of zij een template koopt die je mooi vindt en die redelijk naar jouw smaak aan te passen. Dit zit meestal rond de 500-750 euro zonder tekst. In de meeste gevallen zijn deze websites na leveren vrij simpel om zelf aan te passen. Dit is voornamelijk voor het MKB. Hierbij kunnen wij van "Totaal Online Marketing"  jou mee helpen.
Als je een website laat maken bij een beginnende (zelfstandige webdesigner) kun je een mooie simpele website meestal voor rond de 1.250 euro laten maken. Dit zijn websites die redelijk in elkaar zitten. (Als er gekeken wordt naar de conversie optimalisatie en de gebruiksvriendelijkheid). In de meeste gevallen doet een beginnende ondernemer extra zijn best voor de klant.
Als je een website laat maken door een webdesignbureau, ben je al snel tussen de 2.000 en 5.000 euro kwijt voor het maken van de website.  Je betaalt voor de jarenlange ervaring die het bureau heeft. In de meeste gevallen zorgen deze webdesignbureau 's dat deze website 5 jaar mee kan gaan.
Bij de uitgebreide websites, zoals een webshop, een website met veel tekst of een speciale functie, kunnen de prijzen oplopen tot tussen de 8.000 en 50.000 euro.
Website onderhoud uitbesteden
Het onderhouden van een website kost tijd en geld. Dit kun je zelf doen of je kunt  dit uitbesteden. Als je bijvoorbeeld een formulier er bij wil of een extra pagina, kun je dit uitbesteden aan de persoon die jouw website onderhoudt.
De kosten bij ons voor het onderhoud van de website is 50 euro per maand. Het onderhouden van websites vraagt kennis over DNS servers , de webservers en het onderhoud en optimalisatie ervan, het caching van uw website (browser en server), updates uitvoeren van de WordPress versie, beveiliging tegen hackers, database onderhoud en veel meer.
Uitbesteden website
Wil je een website laten maken of verbeteren? Wij van Totaal Online Marketing willen jou hiermee helpen. Neem vrijblijvend en gratis contact met ons op en we bekijken de mogelijkheden. Wij kunnen je ook helpen met de vindbaarheid van jouw website.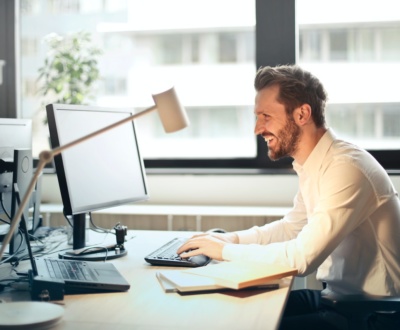 Er wordt vaak weinig aandacht geschonken aan de computerbehuizing. Die grote kast…